Carlo's Upholstery is a family business based in the Melbourne suburb of Thornbury that specialises in complete furniture restoration, upholstery, furniture polishing and custom designed furniture pieces.
Carlo has over 25 years experience in the upholstery and restoration of traditional and modern furniture. The specialist skills and intricate workmanship associated with antique and traditional furniture has been passed down from his father who was an upholster for over 40 years.

Carlo and his team at Carlo's Upholstery take orders for custom made furniture designs and creations from domestic and commercial clients.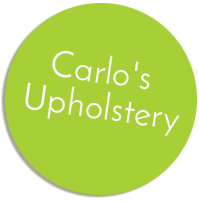 What our clients are saying
From start to finish I found the professionalism and standard of workmanship by Carlo Upholstery outstanding. A large sofa and two chairs had been damaged and I wished for them to be brought back to their original state.
Carlo sort the fabric needed and sent samples. I simply went to the fabric merchant to check the fabric out, gave my approval.
The merchant sent the fabric directly to Carlo. It was hassle free.
Carlo gave me an expected date of completion. On that date the sofa and two smaller settees were delivered. When the delivery men unwrapped them I was in awe of the standard of workmanship and said this to the delivery men.
The delivery man said, in his opinion, Carlo Upholstery is one of the best. I could not agree more. Without hesitation I would recommend Carlo Upholstery to anyone who required the services of a first class upholsterer.
Vicki Standish
Retro Active has always been completely satisfied with Carlo's Upholstery for more than 12 years now. Carlo has a sound knowledge of his trade, passed on from his Father. 
Our specialty is Mid 20th Century design furniture, we've been more than happy to send many of our customers to Carlo.
He can tackle all eras of upholstering, we're always interested to see him working on antiques to contemporary furniture in his workshop.
As well as his excellent work Carlo is himself very personable and sincere and very easy to work with.
Tony & Wendy Faehse | Retro Active
Carlo's Upholstery has been an upholsterer of our business for many years & continually provides high quality work and excellent customer service. As a business that relies on attention to detail and a reasonably quick turn-around time on jobs to provide to our clients, we highly recommend Carlo's Upholstery to any future clients.

Amanda Colman - Interior Living
Over the past few years Carlo has created outstanding services in upholstery for my chair fabrics. His skill and dedication is second to none.
Carlo's ability to create a highly professional finish in great time is with out a doubt the best in Melbourne.
I would highly recommend Carlo's Upholstery to anyone.

James O'Brien
www.onada.com.au
www.joarchservices.com
Carlo grew up in a little upholstery workshop in Station Street, Fairfield, watching his father's hands create one off patterns for each chair. Carlo has listened to many customers stories about their beloved chair and what it would mean to them to bring it back to life and be used once again.  Carlo has seen many different fabrics, styles and techniques come in and out of his father's little workshop.   
Carlo would excitedly run from school to his father's workshop each day to watch and learn the art of creating a pattern, cutting, sewing and understanding hand crafted restoration. From there Carlo's passion grew and his father's skills and workmanship continue to live on in Carlo. Carlo has had his own workshop for over 10 years now and his passion and creativity continue to grow.  Carlo has built relationships with many inspirational Clients working in Antique and Retro retail shops, working as Interior Decorators and Architectural Designers, which he values and enjoys working with.
Sign up for the Carlo's Upholstery Newsletter!
Sign up for our Carlo's newsletter and receive the best and most up to date news right away. Also you will hear about new fabric arrivals, furniture upholstery trends and exclusive offers